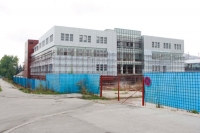 BiH
Ministarstvo finansija i trezora BiH predložilo je Vijeću ministara BiH da za trajni smještaj svih državnih institucija kupi ili izgradi tri zgrade i to po jednu u Sarajevu, Banjaluci i Mostaru.
Govoreći o opravdanosti ovog prijedloga zamjenik ministra finansija i trezora BiH Fuad Kasumović kaže da će u ovoj godini za zakup prostora za smještaj državnih institucija iz budžeta institucija BiH biti plaćeno oko 30 miliona KM.
"Isti, ako ne i veći iznos, morat ćemo izdvojiti i u narednoj godini. To su ogromna izdvajanja koja bacamo u vjetar jer ostaje neriješen problem trajnog smještaja naših institucija. Zato smo predložili da Vijeće ministara BiH donose odluku o kupovini ili izgradnji tri zgrade za smještaj državnih institucija", kazao je juče Kasumović.
Odluka o kupovini tri zgrade bila je na dnevnom redu prošle sjednice Vijeća ministara BiH, ali je vraćena na doradu. Ministri su tražili precizne podatke za koje institucije je potreban prostor.
Kasumović kaže da trenutno ne postoji precizan podatak koliko će novca biti potrebno izdvojiti za kupovinu ili izgradnju nova tri objekta u Mostaru, Banjaluci i Sarajevu.
"Vijeće ministara BiH tek treba da donese odluku da se ide u proces kupovine ili izgradnje. Potom slijedi analiza koliko nam prostora treba za smještaj postojećih te projekcija smještaja institucija koje ćemo osnovati. Tek tada ćemo moći znati okvirnu cifru ali precizne podatke tek kada raspišemo tendere", istakao je Kasumović.
Vijeće ministara BiH trenutno raspolaže neboderom od 17 spratova u Sarajevu, u kojem su smještena državna ministarstva. Trajno je riješeno pitanje smještaja Centralne banke, Uprave za indirektno oporezivanje, Regulatorne agencije za komunikacije i Granične policije, dok je u toku izgradanja objekta za smještaj Državne agencija za istrage i zaštitu (SIPA) u Istočnom Sarajevu. Na državnom nivou postoji 61 institucija.
"Mislim da ovo nije dobar trenutak da kupujemo ili gradimo nove zgrade. Na jednoj strani imamo stalne najave smanjenja plaća uposlenicima u državnim institucijama, a s druge najave o kupovini ili gradnji objekata. Drugi problem je što imamo prioritetnijih projekata koje treba realizirati", rekao je Jure Bilić, predsjednik Sindikata službenika, policajaca i namještenika u institucijama Bosne i Hercegovine.
Bilić smatra da bi za početak bilo dobro da počne izgradnja infrastrukturnih objekata za koje je BiH dobila kredite, a sredstva nije povukla i plaća kamate na njih.