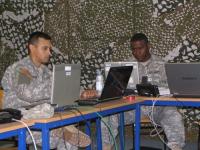 BiH
NATO has successfully completed its Joint Endeavour 2009 exercise, conducted in north-western Bosnia and Herzegovina over the past fortnight.
"Joint Endeavour brings Bosnia and Herzegovina closer to NATO," Sarajevo daily Dnevni Avaz reported on Friday.
Speaking at the closing ceremony in the town of Banja Luka on Thursday afternoon, NATO and Bosnian officials expressed their satisfaction with the exercise and its results.
The operation, which incorporated more than 700 military personnel from Bosnia and 16 other countries, tested the compatibility and interoperability of NATO and Partnership for Peace member states' communications systems. The exercise was carried out simultaneously at the Kozara military barracks in Banja Luka, Denmark and the Netherlands from September 4 to 17.
The regular NATO exercise was taking place for the first time in a country that is not a full NATO member. This fact testifies to Bosnia's successful reform of its military, and also reflects international support for the country's future full membership in the alliance.
"The closing ceremony does not mean the end of the exercise, but a new phase on Bosnia and Herzegovina's path towards full NATO membership," Bosnian Defence Minister Selmo Cikotic said during the ceremony.
However, Bosnia's NATO integration plans have been somewhat dimmed by statements from the premier of the Serb-dominated Bosnian entity of Republika Srpska, Milorad Dodik. After participating in the closing ceremony in Banja Luka, Dodik said that residents of Bosnia's two entities should state their interest in joining NATO in separate, parallel referendums.
Previously, the Office of the High Representative, OHR, has stated on several occasions that referendums cannot be organised on an entity level.