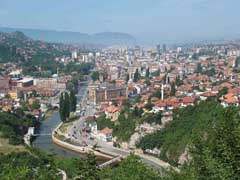 Valentin Inzko, the High Representative for Bosnia and Herzegovina (BiH), informed the European Union's Political and Security Committee about the worsening political situation in BiH and the total absence of reforms' implementation.
"The lack of trust and dialogue among the political leaders influenced the work of the political institutions, mostly at state level," Inzko told the Political and Security Committee.
He specifically pointed out at the inadmissible behavior of the President of the BiH Ministerial Council, Nikola Spiric, accusing him of blocking the appointment of a new minister of security and bringing it groundlessly in relation with appointments to other posts.
Inzko also briefed that the Parliament of Bosnia and Herzegovina has passed as little as a handful of laws in the past six months and that the legitimacy of some of the state institutions, for instance, the power utility Elektroprenos, is constantly brought into question, especially by Republika Srpska.