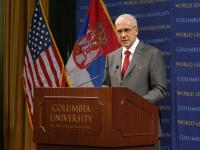 SERBIA
Serbian President Boris Tadic said Belgrade will call for fresh talks with Pristina on Kosovo's status once his government receives and advisory opinion from the International Court of Justice, ICJ.
Addressing students and professors at Columbia University in New York, Tadic said that for his part, there cannot be any compromise on Kosovo's final status. "As for myself, a compromise doesn't exist when one side takes all while the other loses everything," he said.
"Let me make it clear that Serbia will never, under any circumstances, implicitly or explicitly, recognise Kosovo's unilateral declaration of independence," the President pointed out.
Tadic is heading Serbian delegation at the UN General Assembly. The delegation is scheduled to hold several dozen meetings with state representations, in which bilateral relations, economic cooperation and efforts to safeguard the sovereignty and territorial integrity of Serbia will be discussed.
The president will meet US counterpart Barack Obama on Wednesday at a reception in New York.
Tadic said that Serbia did not exercise other unilateral options, such as the imposition of economic sanctions, but will address the issue by appealing to countries in the UN General Assembly not to recognise Kosovo.
Noting that Serbia is seeking the ICJ's advisory opinion on whether Kosovo's unilateral declaration of independence was in accordance with international law, Tadic said that its deliberations should not be pre-judged, and appealed for its work not be obstructed.
"The Court's proceedings have to be allowed to run their course, without political pressures, such as further recognitions of Kosovo," he said.
Serbian Foreign Minister Vuk Jeremic, who is also a member of the Serbian delegation, told Serbian media that he believed that some countries, lobby groups and NGO's are helping Pristina's delegation prepare for its General Assembly address. He said the Serbian delegation must try to identify the countries that are being pressured to recognise Kosovo, claiming that, in terms of financing, Serbia cannot compete with Albanian lobbyists.
Tadic concluded his address at Colombia University by saying that Serbia is determined to continue working closely with neighbouring countries in order to ensure regional peace.
"As the strategic anchor of stability in the Western Balkans, Serbia will invest ever greater efforts to complete the democratic transformation of our part of Europe. So we can rise together, and succeed together," Tadic said.