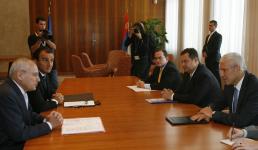 European Commission, EC, Vice-President Jacques Barrot says the EC will suggest that the EU Council include Serbia in the bloc's visa-free regime should a technical mission's report prove positive.
"Serbian Interior Ministry Ivica Dacic handed me a report on Serbia's progress on the visa liberalisation roadmap this morning, which Serbia officially submitted to Brussels on Friday," daily Politika quoted the commissioner as saying.
He added that Serbia has made progress in the visa liberalisation process but that an EC mission, expected in Belgrade in mid-October, will give the final word on the issue.
Serbia had four technical conditions to fulfil by 30 September in order for its citizens to qualify for visa-free travel to EU states next year.
Serbian Deputy Prime Minister Bozidar Djelic said earlier that the four conditions include: the implementation of a Law on Foreigners; the adoption of a National Migration Management Strategy; an action plan for combating organised crime and drugs; and the implementation of procedures for issuing biometric passports to citizens living in Kosovo.
Barrot added that Serbia has invested a lot of effort in reforms aimed at securing visa liberalisation, particularly in the four areas in which the EC asked for improvements.
Dacic has confirmed that Serbia has met all the necessary criteria for inclusion in the visa-free regime.
"We are focused on having January 1 as the possible date for the decision to abolish visas to take effect, and for it to be a day to show that the state institutions of Serbia have reached standards which are necessary for Serbia to move closer to the European Union," Dacic said.
He added that recent attacks on foreigners in Belgrade will not endanger the visa liberalisation process, even though they do affect Serbia's image abroad.