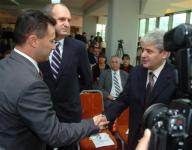 The Macedonian government looks set to survive after the leaders of the ruling VMRO-DPMNE party and ethnic Albanian Democratic Union for Integration, DUI, met to settle their differences.
VMRO-DPMNE leader Prime Minister Nikola Gruevski and DUI head Ali Ahmeti met on Tuesday afternoon to discuss the turmoil caused by the newly-released Macedonian encyclopaedia, which has offended Albanians across the region and built pressure on the DUI to leave the government.
"Government partners will not allow individuals, politicians and citizens to use moments like this to disrupt multiethnic coexistence in Macedonia and will make the utmost efforts to overcome the situation," reads a joint statement released after the meeting.
Several passages in the state-funded tome, prepared by the Macedonian Academy of Sciences and Arts, MASA, caused outrage among local Albanians. The book describes this community as "settlers" in Macedonia who arrived in the 16th century, and as "Shiptari" – a term with offensive connotations for the country's Albanians.
In addition, the book describes Ahmeti, who led the 2001 ethnic Albanian insurgency, as a "suspected war criminal".
"I believe that the prime minister does not stand behind this [encyclopaedia]. He is in a hard position but I think he should come out with a clearer message," Ahmeti told daily Dnevnik on Tuesday, hours before the two leaders met.
Gruevski has distanced himself from the controversy, blaming retrograde forces for the attendant tumult, without identifying the same. The DUI had threatened to leave the government if the premier did not condemn the book.
Ahmeti has come out against the burning of the Macedonian flag at a football match in Kosovo, saying: "These kinds of incidents should not take place".
On Tuesday, the US embassy in Skopje called some passages in the book "erroneous, insulting, or otherwise problematic".
"Macedonia is a multiethnic state and as citizens, politicians and media here respond to the controversy stemming from the shortcomings of this publication we urge that they focus constructively on Macedonia's long-term goals" the statement reads, noting that the country's EU and NATO accession processes are more important.
The MASA has already offered to rewrite the problematic passages in the encyclopaedia, but ethnic Albanian representatives have said this is not enough. They have called for the complete withdrawal of the book and have asked for an apology.
Non-parliamentary ethnic Albanian movements are preparing a protest in front of the government building on Thursday. They say they cannot guarantee that all participants will follow their advice not to burn the national flag as an act of "emotional revolt".