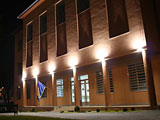 As authorities in Bosnia arrest another terrorism suspect believed to be trafficking weapons for radical Muslim groups, sources close to the investigation tell ISN Security Watch's Anes Alic that they are hoping, finally, to catch up with 'known' terrorists before it's too late.
Bosnian border police last week arrested a Bosnian citizen with Austrian residency based on a warrant for illegal trafficking in weapons and military equipment allegedly destined for radical Muslim groups. The suspect's brother, arrested last year on terrorism charges but released due to lack of evidence, was one of the intended recipients, according to police.
Muhamed Rustempasic was arrested on 24 September while attempting to leave Bosnia at the Bosanska Gradiska border and return to Austria where he lives with his family on a temporary residency permit. The Bosnian Prosecutor's Office issued a warrant for Rustempasic's arrest after he ignored a summons.
Rustempasic arrived in his home town of Bugojno in central Bosnia in early September during the Muslim Ramadan holidays. He had been summoned for questioning by the prosecution on 22 September, and border police had been ordered to arrest him if he attempted to leave the country.
A source from inside the Bosnian Prosecutor's Office told ISN Security Watch on condition of anonymity that the warrant was issued after it was learned that it would later be difficult to request Rustempasic's extradition to Bosnia for questioning: His wife has German citizenship and he has Austrian residency.
Rustempasic's lawyer, Binasa Abaspahic, told ISN Security Watch that her client had not attempted to 'escape,' rather was simply hoping to return to Austria and his children, one of which is allegedly ill – an argument the Bosnian prosecution has rejected, saying the suspect's children could seek medical care in Bosnia.
The anti-terror unit of the Bosnian Federation police began investigating Rustempasic, who has prior convictions for manslaughter and robbery, soon after the March 2008 arrest of a group of radical Muslims. The alleged group leader was Rijad Rustempasic, Muhamed Rustempasic's brother.
All of those arrested in March, including Muhamed Rustempasic, are the members of the Wahhabi movement – a Saudi-based and financed order following a strict interpretation of Islam.
Rijad Rustempasic and the three members of his group – Muhamed Meco, Abdulah Handzic and Edis Velic – were arrested last year after Federal anti-terror police and the Bosnian State Intelligence Agency (OSA) discovered the group was plotting attacks on Catholic churches and international forces in Bosnia during the Christian Easter holidays.
Analyzing intercepted communiqués, police concluded that the group was specifically planning to target the Sarajevo central cathedral and the Franciscan monastery in central Bosnian city of Fojnica. Aside from Catholic institutions, police also have reason to believe that the group was planning to sabotage electricity supply stations and launch attacks against European Forces (EUFOR) Liaison and Observation Team (LOT) here.
In the house in Sarajevo rented by Rijad Rustempasic and his parents' house in Bugojno, police last year seized anti-tank mines, laser sights, electronic equipment, topographic maps and bomb-making manuals. In Rijad Rustempasic's apartment, police seized a hand-made explosive device hidden in a book, set to explode when opened. Several days after the arrest, police raided two abandoned summer cottages in Barice, just outside Sarajevo, finding more explosives and munitions.
However, after three months spent in custody, the Prosecutor's Office failed to win a terrorism indictment against them due to lack of evidence, and all members of the alleged group were released.
Link in the chain
Federal police and OSA continued the investigation, focusing particularly on the group's contacts in Germany and Austria, in an attempt to nail down the supply and financing chain. And that is where Muhamed Rustempasic fits in, according to ISN Security Watch's source from the Prosecutor's Office.
The source said that investigators suspect that Muhamed Rustempasic supplied his brother Rijad with most of the military equipment confiscated in the Sarajevo and Bugojno raids. The Prosecutor's Office has reliable information that Muhamed sent 10 laser sights in March 2008, through his contact Edis Strojil, who is also wanted by the authorities but whose whereabouts are currently unknown.
"Strojil got the laser sights in Germany and sent them to the Muhamed Rustempasic in Austria. Rustempasic repacked them in a duffle bag and gave it to Sead Medic, a driver for Centrotrans [Bosnian state-owned bus company], who in turn gave it to Rijad Rustempasic upon his arrival in Sarajevo," the source said. He added that Rijad had moved the laser sights to his parents' house in Bugojno, where they were found in the police raid.
Another source from the OSA told ISN Security Watch last year that in late 2007 and early 2008, Rijad Rustempasic had contacted acquaintances in Germany and Austria, requesting that they secure for him night vision optics and scopes, which he claimed were for a hunting expedition.
"But what got our attention was that person he spoke with said he could find those 'silent' ones. We realized that they were talking about gun silencers. The information we have is that some of the ordered military equipment came to Bosnia and Herzegovina from Austria. We don't know how much of it arrived at its destination [but we know] that it was shipped by buses in ordinary duffle bags," an OSA source told ISN Security Watch.
ISN Security Watch's Federation police source confirmed that during the raid on Rustempasic's house they confiscated a sniper shotgun equipped with night vision optics and other technology that made investigators doubt that it would be used for hunting. The OSA source said that Rustempasic ordered from Germany and Austria another 11 sniper shotguns, but it remains unclear whether those were ever delivered, and if they were, where the equipment is now.
Following the trail
Some members of the Rijad Rustempasic's group were already well known to the police for their radical activities. The group had been under surveillance for several months by the Federation Anti-Terror Unit and the State Prosecutor's Office.
Since the end of the war in Bosnia and Herzegovina in December 1995, Rustempasic's name has appeared in connection with several investigations related to terrorism and radical Islam.
During the Bosnian 1992-1995 war, Rustempasic was a member of the El-Mujahid unit, headquartered in central Bosnia. The unit was under the official jurisdiction of the Bosnian army during the war, though it operated autonomously and was comprised of foreign fighters from Islamic countries. It was during this time that Rustempasic developed his bomb-making skills, officials say.
Federal police suspect that Rustempasic was responsible for mining the tower of the Catholic church in the village of Humci, near Bugojno, in July 1996. No suspects were ever arrested in connection with the attack. Police also suspect that Rustempasic was behind numerous threats against Bosnian Croat returnees to Bugojno and other central Bosnian cities where there is a Bosniak majority.
According to the Prosecutor's Office and the OSA, in 2001 Rustempasic spent time in Jordan and Saudi Arabia, but the reasons for his travel are not known. Also, the OSA registered that in 2000 he attempted to go to Chechnya as a volunteer, but failed.
In 2004, Rustempasic was arrested by NATO-led Stabilization Force (SFOR) troops in Bosnia for illegal possession of weapons and suspicion of terrorist-related activities. SFOR had found nearly five kilograms of explosives in his possession. For that crime, the court in Bugojno sentenced him to five months parole, during which time he relocated to Sarajevo.
Another member of the arrested group, Edis Velic, also has a criminal past. According to the police source, Velic spent some time fighting in Chechnya several years ago.
This time around, the Prosecutor's Office is hoping that following Muhamed Rustempasic's arrest last week, it will be able to prove, once and for all, that he and his brother's group are leaders of a well-organized terrorist cell plotting attacks on Bosnian territory, rather than the avid hunters their lawyer claims they are.
More likely, however, are charges of illegal weapons possession, rather than terrorism. As usual, the evidence is lacking and there is likely to be yet more back and forth, and more arrests and releases.
Source: isn.ethz.ch