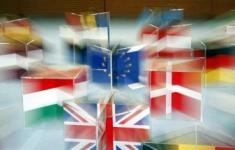 Macedonia has praised the Irish yes vote on the Lisbon treaty, saying its adoption will have a positive impact on EU enlargement prospects.
The positive outcome would mean "a positive climate for the continuation of one of the most successful EU projects, the enlargement process, that spreads the zone of peace and prosperity on the European continent", the Foreign Ministry said in a statement on Friday.
Irish voters, who rejected the treaty last year, voted yes in the new referendum thereon, removing the largest obstacle in the path of its enforcement, which is now expected to occur at the start of 2010.
"Macedonia expresses hope that the ratification process [of the Lisbon treaty] will soon be over in all EU countries, which will open a new chapter in the institutional development of the Union," the ministry said.
The treaty has, so far, been ratified by 24 of 27 EU countries. The process got stuck last year in Ireland, as the country's laws requires a referendum on such issues.
After making internal reforms, Skopje hopes to receive a date for the start of EU accession talks in the upcoming European Commission, EC, progress report – expected to be released in mid-month.
Macedonia has been granted the status of an EU candidate state since 2005 but, due to insufficient reforms, the EC has yet to recommend the start of integration talks.
The Treaty of Lisbon was signed in 2007 and is as an attempt to unite governing EU bodies and to expedite decision making.
The treaty envisages changes to the EU Council of Ministers, the increased involvement of the European Parliament in the legislative process, and the creation of a President of the European Council and a High Representative for Foreign Affairs, to present a united stance on EU policies.
The only member states yet to ratify the pact are the Czech Republic and Poland.