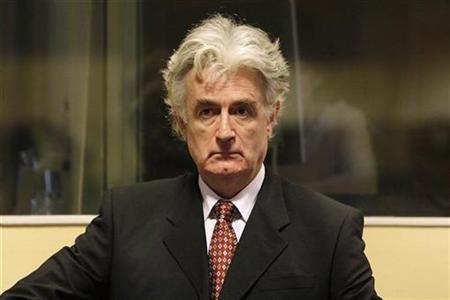 A stand-off looms on Monday between former Bosnian Serb leader Radovan Karadzic and trial judges after the war crimes suspect said he would boycott the start of his trial on claims he is being denied a fair process.
More than 13 years after an arrest warrant was issued, Karadzic is to face 11 war crimes charges, including genocide at Srebrenica, during the 1992-95 Bosnian war, but he says he has not had enough time to prepare his defense.
"The biggest, most complex, important and sensitive case ever before this tribunal is about to begin without proper preparation," Karadzic wrote in a letter to the International Criminal Tribunal for the former Yugoslavia (ICTY) this week.
"I hereby inform you my defense is not ready for my trial that is supposed to begin as scheduled on the 26th of October, and that therefore I shall not appear before you on that date."
Karadzic's lawyer Peter Robinson also told Reuters he will not attend the opening day, adding Karadzic intends to boycott the case for nine months until he is adequately prepared.
The boycott therefore presents a dilemma to court judges, who stressed via court spokeswoman Nerma Jelacic the trial will still start as scheduled on Monday.
But faced with the prospect of an empty dock, they will need to decide how to proceed. Options may include suspending the proceedings, imposing counsel to represent Karadzic, starting the trial without him or forcing him to attend proceedings.
Chief Prosecutor Serge Brammertz denies Karadzic did not have enough preparation time and says the prosecution is ready.
Conscious of avoiding a repeat of the trial of Slobodan Milosevic which lasted more than 4 years and ended without a verdict when the former Yugoslav president died in custody in 2006, Brammertz has streamlined the case against Karadzic.
Brammertz aims to call fewer witnesses and include crimes in fewer locations, but still try to illustrate the magnitude of the charges, starting with the siege of Sarajevo and ending with the Srebrenica genocide.
Even so, the trial is expected to continue into 2012.
ETHNIC CLEANSING
Karadzic, who helped form the Serbian Democratic Party before declaring a breakaway Bosnian Serb state in 1992, is accused of involvement in a joint criminal enterprise, whose purpose was to remove Bosnian Muslims and Bosnian Croats from areas of Bosnia and Herzegovina via "ethnic cleansing."
"Karadzic's trial is one of the key proceedings before the tribunal and it is crucial for Serbia," said Dusan Ingnatovic, director of the Serbia's National Office for Cooperation with the ICTY.
"Serbia proved it was willing to cooperate with the tribunal. We need such a cooperation not only because of our EU bid, but also because we must establish what really happened here during the (Yugoslav) wars."
Prosecutors initially wanted to try Karadzic and fugitive former Bosnian Serb military commander Radko Mladic together, but separated the case last week with Mladic still at large.
"The best scenario would have been to have Mladic and Karadzic together in front of the judges. Unfortunately this has not been the case," Brammertz said.
Axel Hagedorn, a Dutch lawyer representing members of the group Mothers of Srebrenica, said the start of the trial would be of great importance to families of the Srebrenica victims.
"It gets the attention on the drama which has taken place and on this genocide. They get the chance to look at the face of Karadzic and just see what kind of person he is," Hagedorn said.
"Just get the facts straight and the process behind you and then you can move forward," he said, adding that discussions could then be held about possible compensation payments.