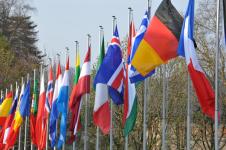 NATO membership would stabilise the political situation in Bosnia and open the way for the settlement of all questions concerning the country's future, Bosnia's defence minister says.
"In the current situation, when our politics are war by other means, NATO membership would resolve all open security issues," Selmo Cikotic said in an interview with daily Oslobodjenje. "All other alternatives are highly risky," he added.
The minister said that NATO membership would also contribute to economic development by making the country more attractive to foreign investors.
Bosnia is a member of NATO's Partnership for Peace Programme and applied earlier this month for the Alliance's Membership Action Plan, a key step on the path to full membership.
Cikotic also defended an earlier decision to lift troop levels in Afghanistan, saying that an increasing number of countries were "starting to realise that it is better to go to Afghanistan than let Afghanistan come to them".
"In Bosnia's case, participation in the [Afghan] mission is also related to progress on the road to NATO membership […] regardless of the risks, I think that sending troops is less risky than not sending them," Cikotic said.
Earlier this year, an advance mission of ten Bosnian army officers joined the International Security Assistance Force, ISAF, in Afghanistan, and the country is currently considering sending another 130 soldiers to join the NATO-led mission.
Some political parties and human rights groups in Bosnia have criticised the deployment of troops to Afghanistan, warning that it could expose the Balkan country to retaliatory terrorist attacks.