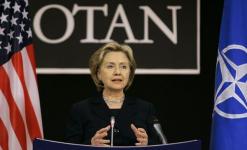 US Secretary of State Hillary Clinton and new US War Crimes Ambassador Stephen Rapp are convinced that Serbia is cooperating fully with the Hague Tribunal.
US diplomats will look to promote this impression, in order to press the Dutch to allow the unblocking of Serbia's Interim Trade Agreement with the EU.
The trade pact is part of the Stabilisation and Association Agreement, SAA, signed last spring and immediately suspended due to the Netherlands' strong opposition.
The Dutch are opposed to unblocking the deal before war crimes fugitives Ratko Mladic and Goran Hadzic are delivered to the International Criminal Tribunal for the former Yugoslavia, ICTY.
Dutch Foreign Minister Maxime Verhagen reiterated in an interview with daily Vecernje Novosti on Wednesday that the EU Council of Ministers has decided that the trade pact with Serbia cannot be unfrozen until full cooperation with the ICTY is achieved.
"That still has not happened, so the stance of the Council of Ministers, and our stance, cannot change," the daily quoted Verhagen as saying.
Verhagen and French counterpart Bernard Kouchner were strongly debating whether the SAA should be unblocked or not on the sidelines of the EU Council meeting in Luxembourg on Tuesday, daily Danas reports. While Kouchner reportedly supported unfreezing the agreement, the Dutch minister remained adamantly opposed to this before the arrests of Mladic and Hadzic.
ICTY Spokesperson Olga Kavran has announced that the Tribunal's chief prosecutor, Serge Brammertz, will visit Serbia next Wednesday in order to discuss Serbia's cooperation with the ICTY, and to gather information for his upcoming report to the UN Security Council.
Referring to the trade pact, Kavran said: "Twenty four member states hold a positive stance about it, Belgium is indecisive, while the Netherlands is strongly against it."
The European Commission, EC, in its annual report on prospective EU member states, called on the EU to unfreeze the deal.
Serbia's Foreign Affairs Ministry announced in September that Serbia is completely committed to securing the country's EU candidacy this year.
However, the implementation of the trade agreement is a formal precondition Serbia must fulfil before applying for bloc membership.