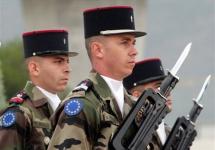 The UN Security Council unanimously approved on Wednesday the extension of the European Union peacekeepers', EUFOR, mandate in Bosnia for another year.
The European Union launched its Althea peacekeeping mission in Bosnia with a military force of 6,300 in 2004 to oversee the Dayton peace agreement that ended the Balkan country's 1992-95 war.
It currently has some 2,000 troops from 25 countries, of which 20 are member of the European Bloc. Spain provides the largest contingent with 304 soldiers, followed by Italy's 300, Turkey's 246 and Poland's 188.
The UN Security Council reiterated that the primary responsibility for the further implementation of the Dayton agreement lay with the Bosnian authorities. Their compliance, including the surrender for trial of all persons indicted by the UN war crimes tribunal in The Hague, will determine the continued willingness of the international community and major donors to provide support, it said.