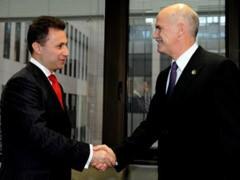 The prime ministers of Macedonia and Greece are set to meet today in a fresh bid to resume dialogue ahead of EU Council meeting in December, when Macedonia expects to get a nod for start of EU membership talks.
The two prime ministers are to meet this evening in the hamlet of Pili, Greek part of natural reservation near Prespa Lake which stretches on the territories of Macedonia, Greece and Albania.
The meeting of Prime Ministers Nikola Gruevski and George Papandreou is expected to improve the atmosphere between the two countries. Nonetheless, nobody expects that today's encounter could end up with a resolution of the long-running dispute on Macedonia's name. There is a small chance of major breakthrough emerging from the protracted row.
Greece is insisting that the name dispute be resolved before Macedonia is allowed to continue its road to the European Union though Macedonia has already won a backing by the European Commission.
Journalist crews will cover Greece encounter at 8-kilometer distance from the venue. The reporters will probably not be allowed a direct contact with the prime ministers.
The encounter will be on the sidelines of a trilateral meeting of prime ministers of Macedonia, Greece and Albania, due to discuss the cooperation in the environmental protection and sustainable development of the Prespa region.
The Macedonian PM is scheduled to meet EC President Jose Manuel Barroso on December 2. Five days later, EU Council will decide whether Macedonia will get a date for start of accession negotiations with EU.