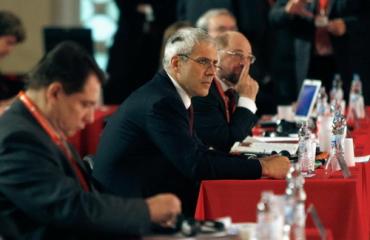 Serbian President Boris Tadić said that a decision will be made soon on when Serbia will apply for candidate status for becoming an EU member.
He said that the unfreezing of the Interim Trade Agreement makes Serbia look like a safe destination to investors and opens new room for Serbia to apply for candidacy.
"The visa liberalization and unfreezing of the interim trade agreement both show that we are a country with more credibility in Europe and the world, a country which foreign investors look at as a safe destination for placing their capital and opening new jobs," Tadić told reports at the congress of the Party of European Socialists (PES) in Prague.
He added that there will be a thorough analysis done, and a decision made soon on when Serbia will be applying for candidacy.
"When I say step by step, I do not mean slowly, I mean with quick steps, with a procedure verified by the EU. It is now possible that Serbia will apply for EU membership candidacy, which we promised to the citizens," Tadić said.
The president also stated that candidacy should be applied for when "the reaction to it will be as good as possible."
"We need to enter the European integration procedure with a significant increase of speed and not with blockades and slow actions like we have done thus far," Tadić said.
He said that his Democratic Party (DS) promised three things to the citizens in the elections – "unfreezing of the interim agreement", visa liberalization and candidacy.
"We are now in the position to fulfill three very important promises, and I hope that we will finish the arrangement with Fiat finally and will be able to fulfill promises in the field as well and increase credibility," Tadić was quoted as saying.
He continued that the unfreezing of the trade deal is a result of a great amount of work, cooperation with the Hague Tribunal and is very important because of the liberalization of economic relations between Serbia and EU member-states.
"It makes our country a more certain zone for investments. We are doing a lot towards further European integration, and on the other side, we are very concretely working to create conditions for investments, even in these conditions of the crisis when every country is fighting for every job," he said, and added that the development increases Serbia's rating.
Tadić participated in the 8th Congress of the PES on Monday, which the DS is interested in joining even though only Socialist and Social Democratic Parties in countries that are either EU member-states or candidates are allowed into the organization.
The interim agreement, unblocked on Monday by EU ministers, is the trade part of the SAA, which Serbia has been unilaterally implementing since the start of this year. The SAA itself remains suspended.