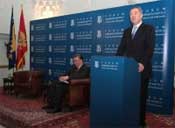 SARAJEVO
Jedinstvena BiH nema alternativu a njen teritorijalni integritet je uslov bez kojeg se ne može govoriti o učvršćivanju stabilnosti regije.
Izjavio je ovo jučer Milo Đukanović, premijer Crne Gore, govoreći na forumu Bošnjačkog instituta posvećenom evroatlantskim perspektivama.
Đukanović je istakao da dijeli stav SAD kada je u pitanju BiH naglašavajući da su nužne ustavne promjene koje će kreirati funkcionalniju državu.
"Najviši zvaničnici SAD, s kojima sam razgovarao tokom nedavne posjete Vašingtonu, kazali su mi da je Balkan i BiH ponovo u vrhu interesa američke spoljne politike. To me ohrabrilo, a posebno sam bio ohrabren stavovima koje su mi prenijeli i koje mi u Crnoj Gori dijelimo, a oni su jedinstvena BiH čiji je teritorijalni integritet uslov bez kojeg nema govora o učvršćivanju regionalne sigurnosti", kazao je Đukanović.
Crnogorski premijer istakao je i da međunarodna zajednica u ovom trenutku treba ostati u BiH, ali da sadašnji način upravljanja zemljom dugoročno nije dobar jer odgovornost treba biti prenesena na domaće vlasti.
"Potrebno je napraviti ustavne promjene koje će stvoriti funkcionalnu državu. Treba ići korak po korak u tom procesu. Stoga vjerujem da će predizborni period biti iskorišten za pripremu a poslije izbora slijedi usvajanje ustavnih rješenja. Funkcionalna država BiH potrebna je jer samo takva može nastaviti put ka EU, a integracije svih zemalja regiona u EU i NATO ključ su za stabilnost regiona", rekao je Đukanović. Ocijenio je da Crna Gora i BiH imaju odlične odnose koji mogu biti primjer ostalim zemljama u regionu.
Premijer Crne Gore tokom jednodvene posjete BiH susreo se i s predsjedavajućim Predsjedništva BiH Željkom Komšićem i predsjedvajućim Vijeća ministara BiH Nikolom Špirićem.
"Politički odnosi BiH i Crne Gore su odlični. Mislim da trebamo što skorije potpisati sporazum o granici sa Crnom Gorom jer je to naš interes", rekao je Komšić.
Na sastancima Đukanovića s Komšićem i Špirićem istaknuta je važnost ekonomske saradnje susjednih država, te unapređenje saobraćajnih komunikacija.
Source: nezavisne.com