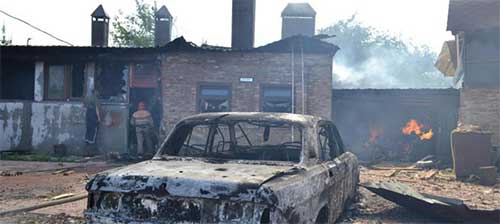 Over 6,000 people have been killed since April 2014 in the Ukraine conflict, the United Nations High Commissioner for Human Rights reported Monday.
"Heavy civilian tolls of dead and wounded have resulted from indiscriminate shelling of residential areas" by both the Ukrainian army and pro-Russian separatists in eastern Ukraine, leaving "merciless devastation of civilian lives and infrastructure," U.N. Human Rights chief Zaid Ra'ad Al Hussein said in a 25-page report.
"The fighting and indiscriminate shelling have caused heavy damage to civilian property and vital infrastructure, leaving civilians in highly precarious situations and often without electricity, gas, heating, water or food. Hospitals, schools and kindergartens were hit by shelling of residential areas, including in Avdiivka, Donetsk city, Horlivka, Luhansk, Mariupol and other settlements, raising suspicion that civilian objects have been targeted or at the minimum indiscriminate shelling of such areas had been conducted in the knowledge of and with stark disregard for international humanitarian law and civilian lives."
The report itemizes death counts in battles, by date and city, as well as examples of detention, torture and disappearances of citizens, blaming both sides in the conflict. It also confirms sightings of Russian troops and equipment entering Ukraine, despite denials by the Russian government.