Macedonia Election Campaign Ends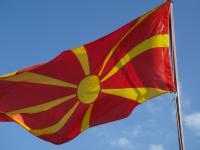 The election campaign for the second round of joint presidential and mayoral elections in Macedonia, seen as crucial for the country's democratic image, ends at midnight on Friday.
Following the pre-election pause, Macedonia is set to elect its next president in a run-off election on Sunday.
Voters will choose between the ruling conservative VMRO-DPMNE candidate Georgi Ivanov, who led the first round with 340,000 votes, and the main opposition, the Social Democrats' candidate Ljubomir Frckovski, who won about 200,000 votes.
In addition, 50 municipalities, including the capital Skopje, await new mayors after 34 were elected in the first round, with the ruling VMRO-DPMNE taking the lead.
Voter turnout in the first round stood at almost 54 percent, and the forthcoming presidential election will be deemed successful with a voter turnout of 40 per cent. But analysts fear that this will be difficult to achieve after almost all the runners-up refused to endorse the remaining candidates or to advise their voters. There is no threshold for the mayoral election.
This election is regarded as a crucial test for Macedonia's democratic credentials, as last year's general poll was marred by violence that gave the country a negative image in the west. The EU said that Macedonia must ensure a peaceful and democratic election this year, if it hopes to speed up its accession process.
External observers confirmed that the first round of elections met international standards.
You can follow any responses to this entry through the
RSS 2.0
feed.
Responses are currently closed, but you can
trackback
from your own site.
//php comments_template(); ?>