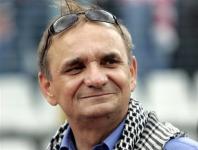 A powerful Croatian politician, who was sentenced by a Croatian court in the first instance to 10 years in prison for murdering Serbs during the 1992-95 wars, is hiding in Bosnia and Herzegovina, media in the region reported on Monday.
After four years of complicated investigations and trials, a Zagreb District Court announced on Friday the first instance ruling on 52-year-old Branimir Glavas.
Glavas was sentenced for two separate accounts of command responsibility for murder, torture and incarceration of Serbs in the Croatian town of Osjek.
Glavas was one of the founders and most hard-line members of the ruling Croatian Democratic Union, HDZ party. Before the war, as well as up to last week, he had served as a deputy in Croatia's Parliament. During the war he earning the rank of Major General in the Croatian Army.
The development reflects a burning problem shared by several Balkan countries, where local criminals and war crimes suspects use porous borders and dual citizenship to escape justice by moving from one to another country.
"This is becoming ridiculous. Their criminals are hiding here and our criminals are hiding there," a 87-year old Sarajevan, Habiba Kulenovic said upon hearing the news on a local radio.
Glavas was not present in the court for the ruling, but his son Filip distributed a CD to journalists in front of the court building with a video showing his father's recorded statement.
"This is farewell, not goodbye," Glavas said and accused the state and party leadership of orchestrating his trial.
While the ruling was read in Zagreb, Glavas crossed into neighboring Bosnia and Herzegovina at one of the northern border crossings. Later that day he was seen in a local pub in the town of Tomislavgrad in western Herzegovina, media reported. On the same day, police confirmed he applied for local identification documents in the neighboring town of Ljubuski.
His exact whereabouts are unknown.
Glavas was born in a small village near the town of Ljubuski and applied and received Bosnian citizenship late last year.
Despite his escape, Croatian police said they had no grounds to restrict Glavas's movements since he still enjoys parliamentary immunity, which will be discussed this week. Bosnian police officials said they had no authority to arrest Glavas since he had Bosnian citizenship and was not convicted of anything locally.
Both Croatian and Bosnian laws do not allow extradition of local residents to other countries. Over the past two decades, many convicted or suspected criminals have used this legal loophole to escape justice by moving from one country into the other.
Another recent example is the case of the former Bosnian Croat member of the Bosnian presidency, Ante Jelavic, who has escaped from local criminal charges in Bosnia to Croatia. After living in Zagreb for years, he was recently abducted, apparently for ransom, and brought illegally to Bosnia. Yet he mysteriously managed to escape and illegally return to Croatia.
Motivated by cases such as those of Ante Jelavic and Branimir Glavas, Bosnian and Croatian authiorities have initiated preparations for an agreement that would allow extradition between the two countries. The agreement will be officially signed within the next month, officials said.