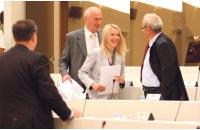 Author: Mirza Čubro
SARAJEVO – Predstavnički dom parlamenta BiH usvojio je jučer zakone o graničnoj kontroli, kretanju naoružanja i vojne opreme, međunarodnoj pravnoj pomoći u krivičnim stvarima te sprečavanju pranja novca i finansiranja terorizma.
Usvajanjem ova četiri zakona ispunjava se dio preostalih obaveza za liberalizaciju viznog režima za građane BiH prilikom ulaska u zemlje članice EU.
"Usaglasili smo četiri od šest zakona čije je usvajanje uslov za liberalizaciju viznog režima. Dogovorili smo se da pitanje zakona o oružju riješimo odlukom kojom će entiteti i distrikt Brčko biti obavezni da svoje zakonodavstvo međusobno harmoniziraju i usklade ga s evropskim propisima. Preostaje još usvajanje zakona o prometu opasnih materija, ali vjerujem da ćemo to napraviti. Uz ove zakone, imamo veoma dobar napredak u provedbi uslova iz 'mape puta' za ukidanje viznog režima", rekao je Nikola Špirić, predsjedavajući Vijeća ministara BiH, na jučerašnjoj sjednici bh. parlamenta.
Poslanici su bez mnogo rasprave usvojili ove zakone, ali su većinu jučerašnjeg zasjedanja potrošili na raspravu o izvještaju o radu Tužilaštva BiH za prošlu godinu.
Poslanici iz RS optužili su Tužilaštvo BiH da selektivno procesuira ratne zločine naglašavajući kako se procesuira veoma mali broj slučajeva u kojima su Srbi žrtve.
"Selektivnost Tužilaštva BiH u procesuiranju ratnih zločina je pogubna za pomirenje u BiH. Tužilaštvo BiH je nepotreban organ koji krši ljudska prava i koji nije nezavistan nego je pod velikim uticajem međunarodne zajednice. To je politički organ koji potkopava suverenitet BiH", rekao je Milorad Živković, poslanik SNSD-a i zamjenik predsjedavajućeg Predstavničkog doma parlamenta BiH.
Njegova stranačka koleginica Milica Marković naglasila je da Tužilaštvo BiH nije uradilo svoj posao u odnosu na istragu o stradanju Srba u Sarajevu.
"Ne treba da ulazimo u raspravu o broju žrtava. U Sarajevu je veliki broj Srba stradao od granata. Dovoljno je pročitati imena ubijene djece u Sarajevu. U Srebrenici je za dva dana stradalo mnogo više Bošnjaka nego u mnogim drugim dijelovima zemlje ostalih naroda tokom cijelog rata. Moj narod nije napravio taj zločin", kazao je Bakir Izetbegović, predsjedavajući Kluba poslanika SDA.
Poslanici su, tokom rasprave o informaciji o radu Tužilaštva BiH, raspravljali o sukobima u Krajini između Armije RBiH i AP Zapadna Bosna, logorima, ratnim kriznim štabovima…
"Tužilaštvo BiH je potpuno nezavisno u svom radu i nije bilo čiji instrument za obračune. Mi treba da radimo najkomplikovanije slučajeve i uvjek se postavlja pitanje šta mi radimo, a niko ne gleda na entitetska i kantonalna tužilaštva. Ne možemo otvarati istrage u slučajevima u kojima dobijemo prijavu i kopije dva-tri dokumenta. Moramo prikupiti dokaze, a to traži vremena", rekao je Milorad Barašin, glavni tužilac BiH.
Potvrđeno imenovanje Simića i Marjanca
Predstavnički dom parlamenta BiH potvrdio je odluku predsjedavajućeg Vijeća ministara BiH o imenovanju Mladena Simića za zamjenika ministra prometa i komunikacija te Živka Marjanca za zamjenika ministra odbrane BiH.