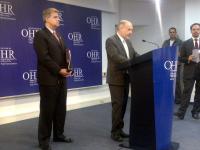 Political deadlock and stalled reforms have forced the international community to postpone its decision to close the Office of the High Representative, OHR, media reported on Wednesday.
"Today we have not made the decision about the closure of the OHR, or about the transition of the OHR," Bosnia's High Representative, Valentin Inzko, said on Tuesday, presenting the conclusions of the two-day meeting of the Peace Implementation Council, PIC.
The PIC comprises representatives of the countries most engaged in the peace-implementation process in Bosnia and overseeing the work, and eventual closure, of the OHR.
In a communiqué issued on Tuesday, the PIC expressed concern over the recent escalation of tensions between the OHR and Bosnian Serb leadership, and stressed that this situation only further delayed the eventual closure of the OHR.
The document underlined that not only Bosnian Serb, but Croat and Bosniak (Bosnian Muslim) leaders were to blame for the overall political deadlock. "I am personally disappointed with the behavior of politicians from both [Bosnian] entities," Inzko told the press conference.
Inzko's calm demeanor at the press conference, as well as the matter-of-fact tone of the communiqué, belied the fact that the June 29-30 PIC meeting in Sarajevo had been heated.
On one occasion, the Bosnian Serb leader Milorad Dodik shouted at Inzko and other diplomats, and threatened to press criminal charges against them, diplomats present at the meeting told Balkan Insight.
Dodik said the Bosnian Serbs would never again allow the OHR to use its broad prerogatives, as it did earlier this month, to countermand decisions of the Republika Srpska assembly.
Meanwhile, international diplomats remain determined to see OHR closed by the end of the year. Despite a growing political crisis over the past couple of months, the EU has continued preparations for the closure of the OHR and the transfer of some of its responsibilities to a reinforced Office of the EU Special Representative, EUSR, Western sources told Balkan Insight.
But most Bosniak and Bosnian Croat leaders, as well as some Western officials, warn that the worst post-war crisis is the wrong time to undertake such a dangerous experiment.
They say that Bosnia still needs the OHR as the ultimate guarantor of country's territorial, constitutional and institutional integrity.
Yet, EU countries remain determined that Bosnia will have to finally learn to walk alone. They hope the situation in Bosnia will have normalized enough by the time of the next PIC meeting in November this year to allow a swift OHR closure.