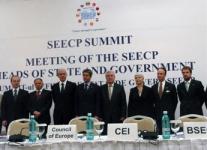 Greece's newly elected prime minister George Papandreou and Macedonia's foreign minister Antonio Milososki may convene Friday at the sidelines of a regional summit in Istanbul, Turkey, local media in both countries report.
Both are present at the informal meeting of the Southeast European Cooperation Process, SEECP. A bilateral meeting would be seen as an initial sign of a thaw in bilateral relations between the two countries that have gone from bad to worse since 2008, when Athens blocked Macedonia's entry into NATO pending a solution to the "name" issue.
"We would be delighted if we can have bilateral or multilateral meetings with our Greek colleagues and discuss issues of mutual interest," Milososki told media, the A1 TV reported. He added that he would welcome any Greek decision for more frequent meetings between the two sides.
Some observers see Papandreou, to won Greece's parliamentary elections on 4 October, as being less hawkish than his predecessor Costas Karamanlis, on the Macedonia name issue, and expect that he may take a more pragmatic view to resolving his country's long standing row with Skopje.
Last year Athens blocked Skopje's entry into NATO insisting that the country should first change its constitutional name, Republic of Macedonia. Athens insists that this name implies Skopje's territorial claims towards its own northern province, also called Macedonia.
Many in Macedonia fear that Greece may also block Macedonia's progress towards EU accession. The European Commission is due to release a report on the country's progress this Wednesday, and media
question whether Greece will in any way condition Macedonia's EU progress in this report.
"It would be equal to scandal if Macedonia, five times in a row after being granted the status of an EU candidate country (in 2005), stays at the same place while others progress," Brussels based diplomats said, as reported in the Utrinski Vesnik newspaper.
The daily previously revealed a document claiming it contains the European Commission's draft conclusions on Macedonia. The document notices satisfactory progress in reforms in the country and notes that bilateral issues such as the one with Greece should not influence Macedonia's EU accession.
At the same time the draft mentions that finding a mutually agreeable solution to the country's open bilateral issues is also part of the stabilisation and association process.
"If the report is negative I will take responsibility," Macedonia's Deputy Prime Minister in charge of country's EU integration Vasko Naumovski told media Friday.