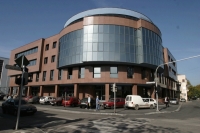 Dragomir Roković Evropskom sudu za ljudska prava u Strazburu podnijet će tužbu protiv BiH zbog odbijanja Uprave za indirektno oporezivanje (UIO) BiH da ga vrati na posao unatoč sudskoj presudi kojom je poništeno rješenje o otkazu.
Od nekoliko desetina bivših djelatnika entitetskih carina koji su nakon osnivanja UIO ostali bez posla, Roković će biti prvi koji će pravnu zadovoljštinu potražiti u Strazburu.
"Sud BiH poništio je rješenje UIO kojim sam ostao bez posla. Menadžment Uprave međutim ne želi me vratiti na posao, jer tvrdi da to Sud nije naložio. Iscrpio sam sve pravne mogućnosti u BiH i stoga mi ne preostaje ništa drugo nego da podnesem tužbu Sudu u Strazburu. Učinit ću to u narednih nekoliko dana, a najkasnije do kraja mjeseca", kazao je Roković.
Tomo Milošević, predsjednik Upravnog odbora Udruženja bivših radnika Republičke uprave carina, najavljuje kako će tridesetak članova ovog udruženja uskoro također podnijeti apelacije Sudu u Strazburu.
"Uprava za indirektno oporezivanje tvrdi da Sud nije naredio da nas vrate na posao. To je apsurdno, jer je Sud poništio rješenja o otkazu, pa šta to drugo može značiti nego povratak na posao. Pošto smo iskoristili sve pravne mogućnosti u BiH, neće nam preostati ništa drugo nego da idemo u Strazbur", kazao je Milošević.
On je dodao da je problem je što sudska procedura u BiH predugo traje.
"Neke naše kolege i po godinu dana čekaju očitovanje Ustavnog suda BiH. Podnio sam apelaciju tek nedavno i stoga ne očekujem da to bude riješeno u narednih nekoliko mjeseci, a možda i godinu", rekao je Milošević.
Uprava za indirektno oporezivanje BiH nastala je spajanjem nekadašnjih entitetskih carinskih uprava. Osnivanjem državne uprave bez posla je ostalo 633 djelatnika nekadašnjih entitetskih službi. Sudske procese pokrenula su 272 otpuštena djelatnika.
Ratko Kovačević, glasnogovornik UIO BiH, kaže da Uprava nema obavezu vraćanja na rad zaposlenika ukoliko se to u pravosnažnoj presudi ne nalaže.
"Uprava se nije oglušila ni o jednu presudu, jer su od 117 presuda samo tri presude sadržavale odluku Suda kojom je Uprava obavezana da izvrši ponovni izbor kandidata i to na osnovu rang-lista nastalih u toku postupka, koje presude su uredno izvršene", kazao je Kovačević.
On je dodao da je Uprava izvršila sve radnje koje su joj naložene u pravosnažnim sudskim presudama.