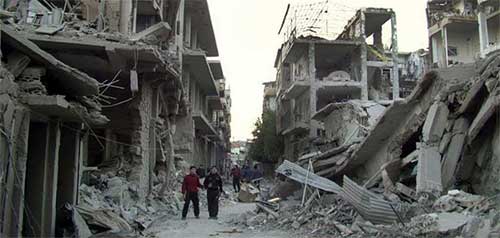 France and Germany, in a combined initiative, called Wednesday for the rapid identification of those who used chemical weapons in a deadly attack on the Syrian town of Khan Sheikhoun last April, according to the French Foreign Ministry.
At least 92 people died in the Khan Sheikhoun attack, 30 of them children, and France has accused the Syrian regime of being behind the prohibited use of chemical agents, notably Sarin gas.
The Dutch-based Organisation for the Prohibition of Chemical Weapons (OPCW) has concluded that Sarin gas was the chemical agent uses in Khan Sheikhoun and France says its own investigations demonstrate the Sarin compound is similar to compounds already used by the Syrian regime several years ago.
In a statement, the French Foreign Ministry said that the OPCW "has unequivocally confirmed… the use of Sarin gas in Syria during the April 4 attack," which the Damascus regime denies.
"These crimes must not go unpunished and those who perpetrated them should be brought before the courts," Paris said.
"That is why France and Germany, in a joint statement to the OPCW, call today on the international community to assume their responsibilities, notably in demanding the rapid identification of those behind these attacks," the Foreign Ministry said, noting that the Franco-German initiative has the support of numerous nations who have signed treaties prohibiting chemical weapons.
France said that it hoped the Joint Investigation Mechanism (JIM), which is under UN mandate to investigate chemical weapons use in Syria, will pursue its mission and identify those guilty of the violations.
A report from the JIM in this area is expected in the autumn, the French statement said.