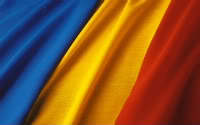 The presidential election campaign started Friday in Romania, a country struggling with a severe recession and reeling from political turmoil after its government collapsed last week.
The first round of the presidential poll is set for November 22, and it will be the first election of a head of state since Romania's accession to the European Union in 2007.
Eight candidates have so far signed up for the race, with the deadline to register at midnight.
Two candidates are expected to be the major contenders: incumbent President Traian Basescu, supported by the governing Democratic liberal party (PDL), who was elected in December 2004, and the head of the Senate, Mircea Geoana, a former foreign minister and leader of the opposition Social Democrats (PSD).
The two have pledged to reform the economy and the public sector, but they have so far been mainly engaged in political quarreling.
Political analyst Cristian Parvulescu told AFP he expects the campaign to be "very harsh".
"Many files will emerge in attempts to compromise one candidate or another," he said, adding that he deplored the absence of key issues for the country in the current debates.
A major concern is the Romanian economy which is expected to shrink by 8.5 percent this year, according to the International Monetary Fund (IMF).
The other candidates are the head of the Liberal party Crin Antonescu, Bucharest's Mayor Sorin Oprescu, the owner of the Steaua Bucharest soccer club Gigi Becali, Hunor Kelemen for the Hungarian minority party and Vadim Tudor for the far-right.
Along with the presidential vote, Romania will also hold a national referendum on November 22 to decide if it should reduce the number of members of parliament from the current 471 to 300, in an unicameral legislature.
The referendum called by Basescu is strongly contested by the opposition, which has an absolute majority in parliament.
Parvulescu thinks the referendum will "garble the presidential campaign" and help the incumbent president as there is a "popular anti-parliament feeling" in Romania.
The country is in a political crisis after the collapse of the centre-right government of Prime Minister Emil Boc last week following a no-confidence vote.
Basescu has designated economist Lucian Croitoru as prime minister.
Parliamentary approval, which Croitoru is expected to seek on Monday, could be difficult as the three main opposition parties have an absolute majority and have repeatedly rejected his nomination.